LM500 / LM500-TF | FW Murphy Production Controls
LM500 / LM500-TF | Murphy by Enovation Controls

Murphy LM500-TF机油油位保持器包括一个测试功能,通过一次按下测试按钮即可确认浮子和开关均正常工作。LM500系列保持发动机、泵或压缩机的曲轴箱油位。调整到正确的运行油位后,它将在使用时补充机油。如果供油中断且设备继续用油,低液位开关将报警和/或关闭设备。Murphy LM500-TF Oil Level Maintainer includes a test feature that confirms both the float and switch are operating correctly with a single press of the test button. The LM500 series maintains the crankcase oil level of an engine, pump or compressor. Adjusted to the correct running-oil-level, it will replenish oil as it is used. The low-level switch will alarm and/or shutdown the equipment if supply oil is lost and the equipment continues to use oil.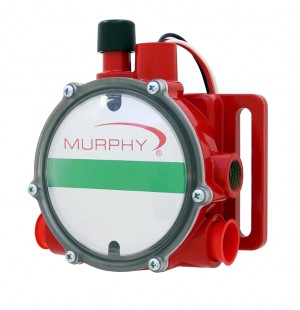 产品名称:Murphy LM500-TF Oil Level Maintainer LM500油位维持计 PDF CATALOG
技术资料下载


LM500适用于给任何发动机补充机油,它还自带有三线,弹簧式开关。C形式(三线)触点允许控制器/信号器按照一个闭环系统接线,形成一个可靠的故障感应线路。参照LM500系列关于应用程序数据的流量图表。 摩菲 LM500-TF 润滑油补充装置包括一个测试功能(一个单压测试按钮),用于确认浮球和开关可以正确操作。LM500系列维护发动机、水泵或压缩机的曲轴箱机油位, 当机油位在低位时会自动补充。如果供应的机油已用完和设备在持续的消耗机油,低位开关将会报警和/或停止外部设备。 随着曲轴箱的机油位降,LM500浮球也下降并打开拇指阀?。它将允许机油从外部油箱通过LM500流入到曲轴箱里。当曲轴箱的机油位达到合适的位置,LM500浮球上升引起拇指阀关闭(防止更多的机油流入到曲轴箱里)。 这个简单和独特的拇指阀不会堵塞,提供一个无泄露的密封。 如果外部油箱的油用完且机油位持续下降,低位开关将报警或停止设备。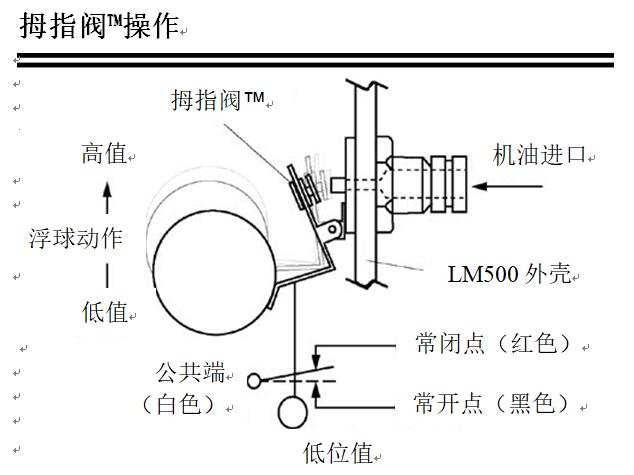 产品特性:

测试功能(TF选项):可对浮球及开关的性能进行测试
可采用直接安装方式(DM选项)
低液位报警采用3线制输出信号(可用常开或常闭)
较LM2000系列有更大的玻璃视窗
视窗采用内部密封较之前的边缘密封可靠
简单的安装方式
全长度的高度调整插槽
可选ATEX防爆认证
不锈钢浮球
连接口规格
3个连接口都是 3/4 NPTF
更大的蛙眼视窗
方便检查的绿色条带

曲轴箱平衡通风孔连接: 1/2 NPTF(顶部)。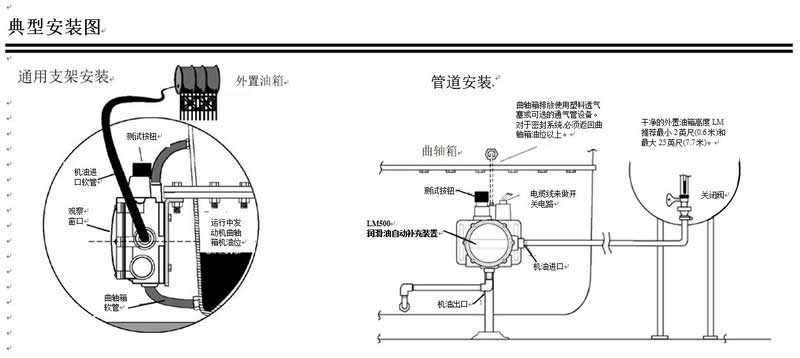 Simple installation
Automatically maintains lube level
Low level, 3-wire, snap-action switch
Positive sealing Thumb-Valve
Eliminates under/overfill due to "human error"
See oil level and condition without shutting down
Test Feature (TF) allows test of float and switch
Part No.: LM500-TF
Crankcase Balance Vent Connection: 1/2 NPTF (top)
Inlet Connection: 1/2 NPTF removable screen (side)
Outlet Connection:2 x 3/4 NPTF (side) 1 x 3/4 NPTF (bottom)
Thumb-Valve Material: Viton
Snap-switch: SPDT rating 10 A, 125 VAC; 0.5 A, 125 VDC; 10 A, 30 VDC
Wire leads: 18 AWG x 14 in. ± 2 in. (355 mm) length
Conduit Connection: 1/2 inch conduit (female, top)
Case: Die cast aluminum
Lens: Clear "Frog Eye" non-staining, high impact, high temperature polycarbonate; UV and heat stabilized
Dial: High visibility white background with solid green band for normal level indication
Maximum Inlet Pressure: 9.50 psi/25 ft. oil (head pressure)
Maximum Case Pressure: 15 psi (103 kPa)
Maximum Differential: 2 in. (51 mm) between running and stopped
Maximum Ambient Temperature: 250°F (121°C)
Float: 304 Stainless Steel
Flow Rates: Refer to image #4
Dimensions: Overall 6-9/16 inch tall x 6-3/16 inch deep x 3-1/2 deep
Shipping Dimensions: 9.5 x 7.5 x 11 in. (241.3 x 190 x 279.4 mm)
Shipping Weight: 3 lbs. 13.44 oz (1.74 kg)
| | | |
| --- | --- | --- |
| Model/Part Number | Description | Notes |
| LM500 | Lube Level Maintainer | |
| LM500-TF | Lube Level Maintainer w/ Test Feature | |
| 15000954 | Vent Fittings Kit | one tubing vent; one 1/4 x 1/2 NPT connector |
| 15000355 | Hose Kit | one - 1/2 in. (13 mm) I.D. x 3 ft. (914 mm) hose; one - 1 in. (25 mm) I.D. x 3 ft. (914 mm) hose; two - 1/2 in. (13 mm) worm gear clamp; two - 1 in. (25 mm) worm gear clamp; two - 1/2 NPT x 1/2 in. (13 mm) barbed fitting; two - 3/4 NPT x 1 in. (25 mm) barbed fitting |
| 89080801 | 1/2 NPT x 1/2 in. Hose Barbed Fitting | |
| 89081001 | 3/4 NPT x 1 in. Hose Barbed Fitting | |
| 15000518 | Pipe Bracket Kit | |
| 15000519 | Universal Flange Kit | |
| 15000532 | Bubble Lens Kit | |
| 15000943 | Fittings Kit | one tubing vent; one hose barb, 1/2 NPT to 1/2 Hose; one hose barb, 1" ID hose x 3/4 NPT; one connector, 1/4 x 1/2 NPT |

LM500和LM500-TF型号油位维持计 自动补油器实物现货照片